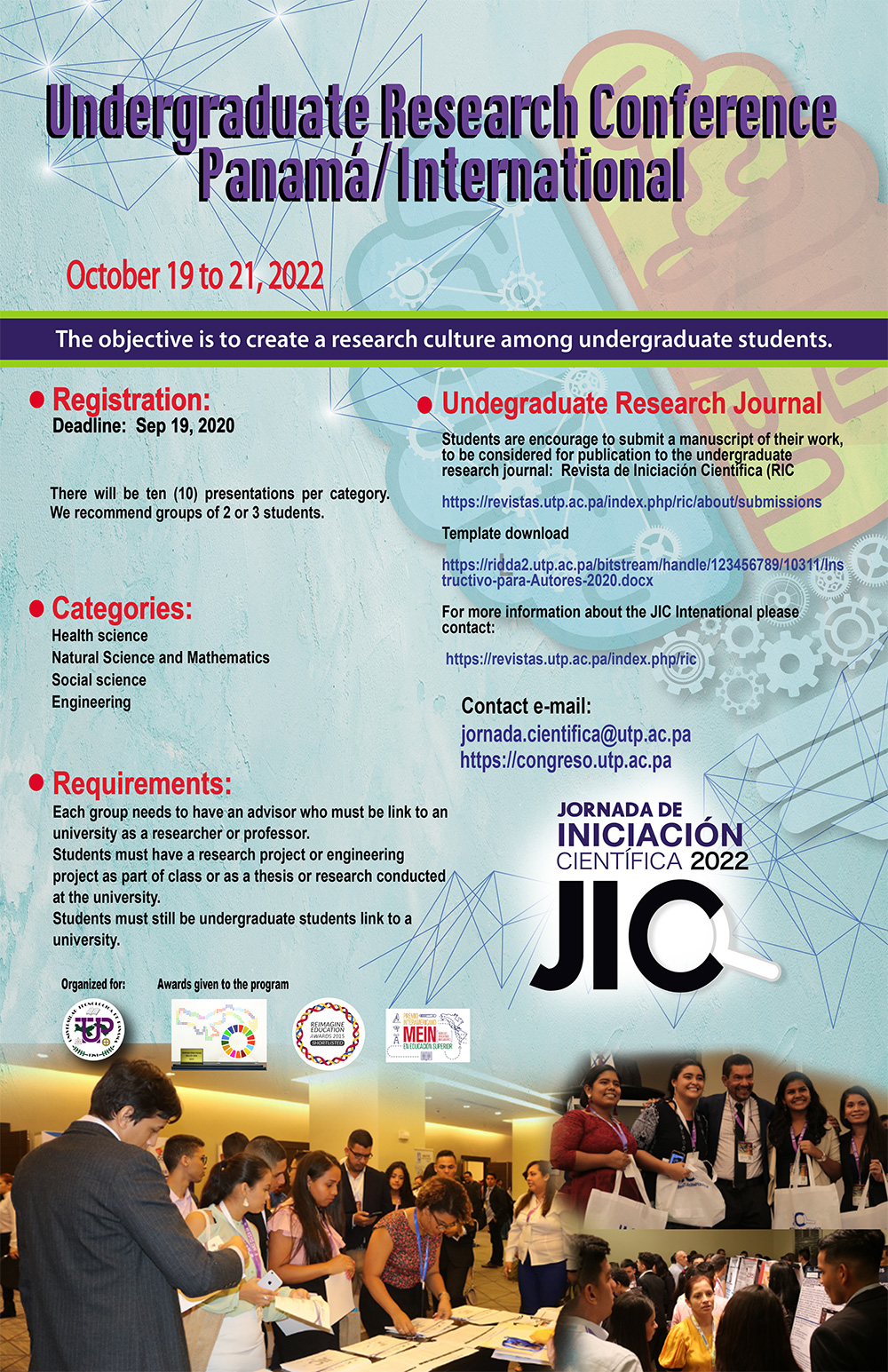 Important Information for Authors
The international JIC 2022 is held within the framework of the VIII International Congress of Engineering, Science and Technology of the Technological University of Panama. Parallel presentations will be held in different rooms as the IESTEC conference procedures take place over 3 days from October 19 – October 21st.
In this room, the 40 selected works from the different participating countries will be presented virtually. Presentation of the projects will begin on Wednesday October 19th in the afternoon with 14 projects; 13 projects on Thursday October 20th, and 13 projects on Friday October 21st, each with an exhibition time of 15 mins, totaling 40 projects (36 international and 4 Panamanian).
Areas of interest of the International JIC
Science as a means of addressing humanities greatest problems.
The scientific approach to problem solving involves generating ideas and knowledge, using facts to propose a solution, applying a process of evaluating and improving the proposed solution until a problem is solved.
We invite you to submit your abstracts in Spanish or English that do not exceed 250 words, which are included in the registration form.
Engineering Projects: A cyclical and unique activity to make decisions in which natural resources are transformed into mechanisms and systems that achieve human satisfaction, studying the existing needs in the market and anticipating future needs generating anticipated solutions.
Natural and exact sciences: Create knowledge and understanding through science on global priority issues to find solutions to today's great economic, social and environmental challenges and to achieve sustainable development and more resilient societies.
Health sciences: An interdisciplinary science that seeks to maintain, restore and improve health and well-being, better understand the vital processes of animal and human organisms related to life, health and disease.
Social and humanistic sciences: As defined by UNESCO, people can work together to build lasting peace, create and use knowledge for fair, inclusive, resilient and democratic societies. You can investigate any topic that contributes to the solution of problems in this area.